Humanitarian aid agency CARE International UK has been providing psychological support for the children who live in the refugee camps. Some of these kids were recently asked to turn their experiences into stories and drawings, giving them a chance to express some of their darkest memories.
Instead of images of pain or fear, many of these children have instead chosen to draw positive images of peace rather than conflict, when asked to draw by CARE, for instance white doves to symbolize peace and eternal flames of strength.
"Syria is like a lit candle that will never turn off," says 11-year-old Salam, "I drew it because it resembles hope and the brightness of the future."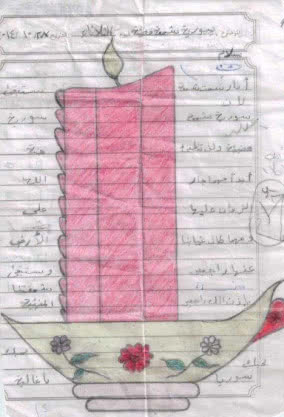 Twelve year old Seadra Hajali's entry is a colourful depiction of the beautiful land she dreams of returning to one day.
Saedra's picture of a magical land.
READ MORE AND DONATE TO CARE ON https://www.care.org.au/blog/syrian-children-tell/